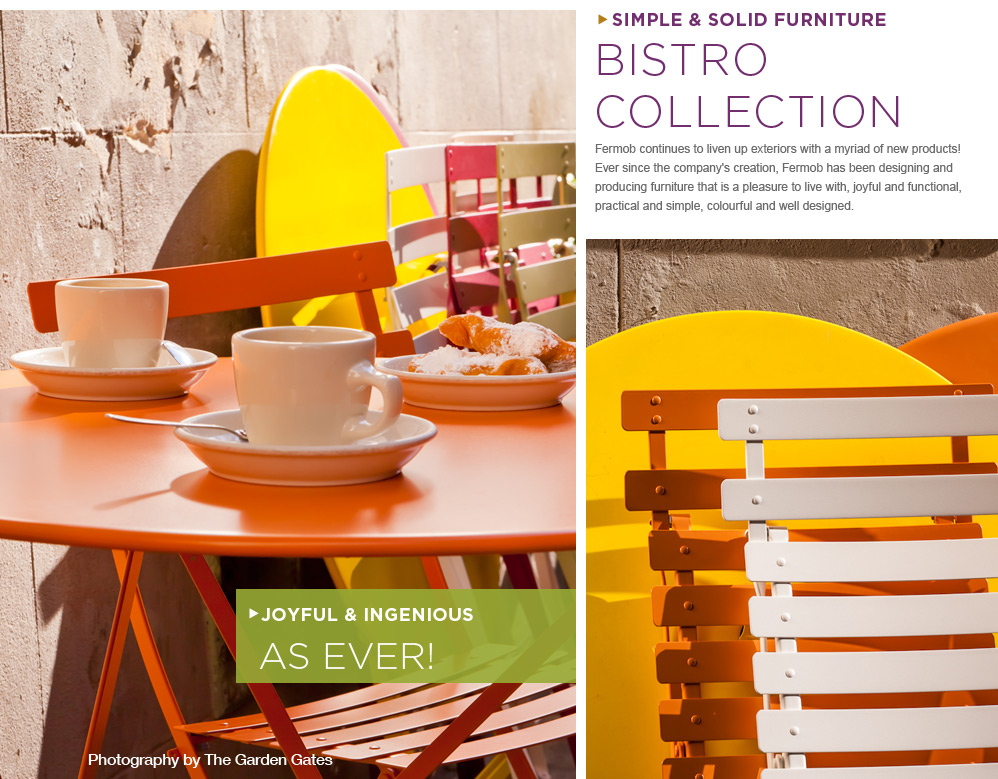 French Bistro Furniture
Fermob's line of bistro furniture can be seen all across the world. This company provides outdoor lounge or furniture for a great price. Whether you are living in the French Quarter and want to relax on your balcony or you want to fill your cafe on the beach with beautiful Fermob table and chair sets. Fermob crafts some of the most reliable tables, chairs, and lounge pieces. Fermob's pieces are handcrafted in Lyon, France and is shipped in containers to the United States. The maintaining and cleaning of your Fermob furniture is absolutely simple. For metal furniture it is recommended that you clean with water and also it is strongly recommended to not use abrasive cleaning devices or powders to clean. With proper maintenance of your Fermob outdoor furniture will hold its color for the years to come.
23 Brilliant Colors to craft your Bistro Sytle-
The Fermob color combinations have 23 combinations. The colors are: Liquorice, Storm Grey, Steel Grey, Cotton White, Linen, Nutmeg, Chili, Russet, Paprika, Carrot, Poppy, Fuchsia, Aubergine, Cobalt Blue, Turquoise, Fjord Blue, Cedar Green, Savanna, Willow Green, Verbena, Aniseed, Grass Green, and Lemon. Some of the most popular colors we have seen are Fjord Blue, Linen, Cotton White, Nutmeg, Carrot, and Aubergine. We personally recommend a green for most backyards with large green spaces, cotton white or nutmeg for a patio area, and linen for a front porch. The best part about Fermob's color selection is you have a selection that can fit any need and work with any space your heart desires. With Fermob's wonderful selection of furniture the most difficult part is choosing which colors to go with the collection you choose.
French Bistro Furniture Collections
The collections by Fermob are: 1900 Collection, Bistro Collection, Alize Collection, Castille Collection, Costa Collection, Dune Collection, Flower Collection, Luxembourg Collection, Montmartre Collection, Plein Air Collection, Rendez-vous Collection, Sixties Collection, Monceau Collection, and Extended Collections. The materials that make these pieces so durable range from galvanized steel to aluminum. All of these collections shape what is Fermob's line of outdoor furniture, the line offers great looks, style, reliability, and afforable price, which is why people across the globe find these pieces of furniture so great.
Bistro Furniture - Classical Design
The Bistro Collection by Fermob is our most popular collection from Fermob. We have recently begin selling Sixties Collection at The Garden Gates. The Bistro Collection, our most popular seller, is small enough to fit on a balcony yet the line carries large enough tables to seat 6 comfortably. The Bistro Collection can be found in small points of interest such as Bryant Park and Time Square. The Bistro Collection is made from galvanized steel and can be found in all colors previously listed. A collection new to our store, The Sixties Collection, is made from aluminum and available in all colors listed previously. The Sixties Collection does not have a solid back which is why we think it is one of the most unique pieces offered by Fermob. One of our favorite collections is the Luxembourg Collections. This collection offers a simple and sleek design that can work in any space. All of these products were inspired by the Garden of Luxembourg in Paris. These durable chairs and tables are made from aluminum and are available in all of the colors by Fermob. With proper maintenance, color choice, and the choice of collection is what will make your experience with Fermob's furniture perfect.
About The Garden Gates
The Garden Gates
is a featured partner of Fermob Outdoor Furntiure and is sold online, in store and catalog.
Founded in 1990, The Garden Gates, New Orleans LLC (www.thegardengates.com) offers home decor, outdoor patio furniture, garden and all things home at their flagship store at 2918 Metairie Road, a suburb of New Orleans, Louisiana. The Garden Gates also offers over 10,000 products for sale online and in their mail order catalog.
The Garden Gates corporate headquarters are located in Metairie, Louisiana. The company 15,000 square foot distribution center and production facility are located in Metairie, Louisiana.