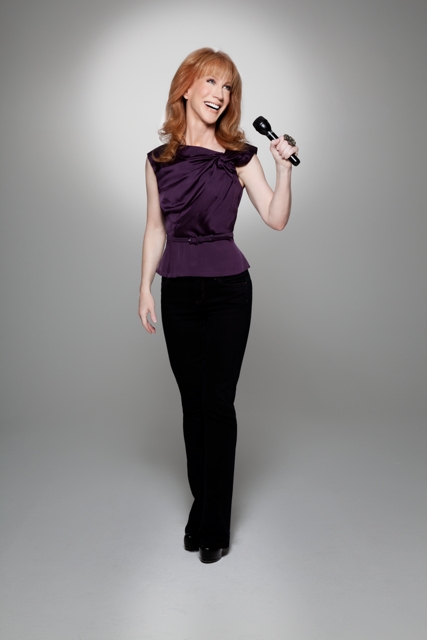 LAS VEGAS (January 26, 2012) – The Mirage Hotel & Casino will welcome two-time Emmy® Award-winning comedian and three-time GRAMMY® nominee Kathy Griffin as she makes her Aces of Comedy™ debut at the Terry Fator Theatre Saturday March 17 at 10 p.m. This St. Patrick's Day, Griffin will delight audiences with her outrageous candor and rapid-fire wit as she dishes on pop culture and inappropriate water cooler talk with material about her hilarious observations and run-ins with celebrities.
Tickets priced at $79.99, $69.99 and $59.99, plus tax and service charge, are now on sale. To charge by phone, call (800) 627-6667 or (702) 791-7111. Tickets also are available for purchase online at www.mirage.com and www.ticketmaster.com.
Griffin moved from her native Chicago and joined the famed Los Angeles Groundlings Theatre where she was a student and later a teacher. She built her resume with guest appearances on television shows including "ER," "The X-Files" and "Seinfeld." Griffin went on to co-star alongside Brooke Shields in "Suddenly Susan" which ran for four years on NBC.
In 2005, Griffin entered the world of reality TV with her two-time Emmy Award-winning show "Kathy Griffin: My Life on the D List" which aired on Bravo. Her stand-up specials "Kathy Griffin – Straight to Hell" (November 2008) and "Kathy Griffin: She'll Cut a B*tch" (April 2009) were each nominated for an Emmy in the category of Outstanding Variety, Music or Comedy Special. Griffin's memoir titled Official Book Club was No. 1 on The New York Times best-seller list. Her comedy albums For Your Consideration, Kathy Griffin Does the Bible Belt and Kathy Griffin: 50 and not Pregnant all have been nominated for GRAMMY Awards.
About Aces of Comedy™
The Aces of Comedy™ series at The Mirage Hotel & Casino features one of the most comprehensive and diverse comedic line-ups nationwide. The 1,265-seat Terry Fator Theatre at The Mirage hosts more than 100 annual performances. The Aces of Comedy™ series, launched in 2010, is home to some of the most popular comedians worldwide including Jay Leno, Ron White, Ray Romano, Kevin James, Daniel Tosh, Kevin Hart, Seth Meyers and Jim Gaffigan, among others.
###
Contact:
Kristen Cadenhead
MGM Resorts International Public Relations
(702) 891-1864