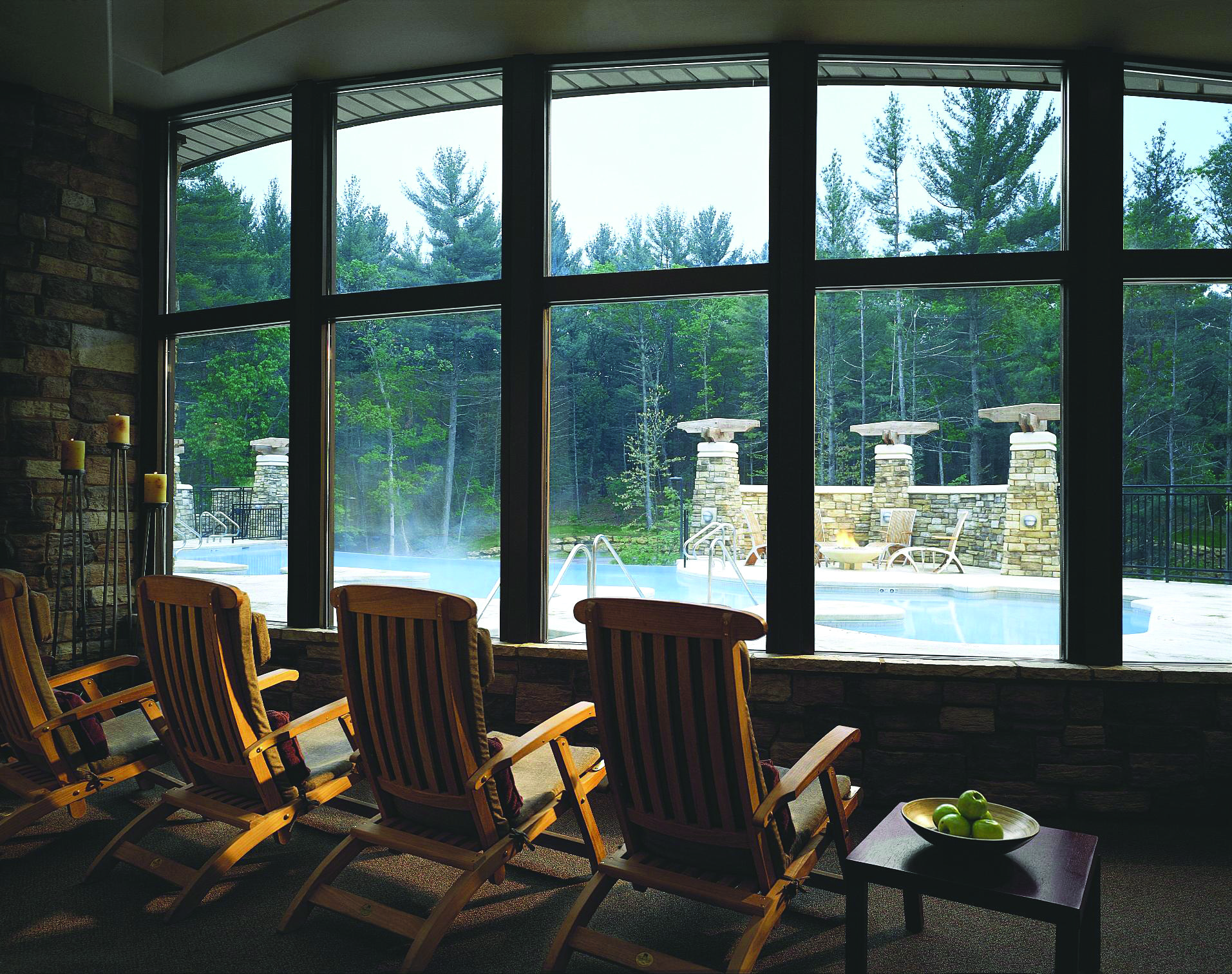 Relaxation Lounge at Sundara Spa, photo courtesy Eliasen Photographs

Relaxation Lounge at Sundara Spa, photo courtesy Eliasen Photographs
MADISON, Wis. (March 29, 2012) – There's something about staying at an award-winning hotel or visiting a highly revered spa that makes you feel like royalty. And in Wisconsin, the list of places fit for a king or queen is growing at an unprecedented rate. Wisconsin makes award winning look easy. Just this past year alone, Wisconsin has accrued awards in all sorts of unique categories – from the American Players Theatre's new title as the "Best Theater Company in the Country," to Wollersheim Winery's designation as the 2012 Winery of the Year, to Green Bay's recognition as the "Top City for Football Fans to Live." Add the following crown jewels to your bucket list.
Wollersheim Winery: Winery of the Year
Cheers to Wollersheim Winery in Prairie du Sac. The winery was just named the San Diego International Wine Competition's 2012 Winery of the Year. A true honor, the winery (celebrating its 40th anniversary this year) took home four platinum wine awards as well as two best in show awards for their White Riesling and Prairie Fumé wines, beating out 1,754 wines from the U.S. and 12 other countries. Want to taste the award winning wines for yourself? Wollersheim offers tours year round that will take you through their 150-year old property. The scenic Driftless Region of Southwest Wisconsin will have you saying, "Napa…what?"
Green Bay: Top 5 Places for Football Fans to Live
It's true that many people are attracted to Green Bay for football; however, it's the museums, shopping, outdoor activities, and more that keep them coming back…and possibly for good. In November 2011, NBC's "Today" show named Green Bay No. 1 on its Top 5 Places for Football Fans to Live list. Green Bay nabbed the spot for its reasonably priced, charming homes and variety of activities. If that's not a touchdown, we don't know what is.
La Pointe and Ripon: Coolest Small Towns in America
Every town in Wisconsin is cool in its own way; we know that. But who doesn't enjoy having thousands of voters reaffirm it once and a while? Budget Travel magazine announced the winners on its 2011 list of 10 Coolest Small Towns in America and not one, but two Wisconsin towns made the list. Drumroll please...Ripon and La Pointe.
The town of Ripon was awarded because of the extremely close connection between the town's residents and the students who attend Ripon College. The college, by the way, just so happens to be the alma mater of actor Harrison Ford.
Located on Madeline Island, La Pointe made Budget Travel's list and was applauded for its quiet, artistic enclave. And we're not kidding when we say small town. The population of La Pointe is just around 250 residents. Traveler tip – if you visit, rent a kayak from Apostle Island Kayaks and see the town from a completely new Pointe of view.
Nominations have surfaced for the 10 Coolest Small Towns in America for 2012. So far, Budget Travel's Wisconsin nominees are: Bayfield, Eagle River, Greendale, Mineral Point, New Glarus, Pittsville, Spooner, Spring Green, Sun Prairie, and Wisconsin Dells. Leave a comment for your favorite town and come back to the site in January 2013 to vote on the finalists.
La Crosse: The Most Romantic City in America
On a more affectionate note, this February the city of La Crosse was named The Most Romantic City in America by Redbox, the movie rental company. How was this award elected, you ask? It is based on the number of romantic comedy DVD rentals from the city. And it is no surprise that love is in the air in La Crosse. The city has some of the most breathtaking views of the Mississippi River in the state.
The Dells: Top Amusement Park in the United States
The Wisconsin Dells made it to No. 2 on TripAdvisor.com's 2011 Readers' Choice Awards for Top 10 Amusement Parks in the United States. With new slides and parks opening up each year, like the Kalahari's new Super Loop Waterslide or the soon to open Quadzilla at Noah's Ark, the Wisconsin Dells is constantly striving to invent fun new experiences for travelers. In fact, TripAdvisor.com teased, "there's almost too much family fun to be had here."
Distil: 50 Best Bars in America for 2011
Step into Distil in Milwaukee and you'll quickly realize this is not your ordinary bar. Distil is a culinary destination above anything else. With artisan fare made from Wisconsin grown and/or crafted ingredients and craft beer and cocktails, it's fitting that Food & Wine magazine named Distil on its 50 Best Bars in America for 2011. Distil drew rave reviews for its selection of more than 120 bourbons and ryes. Food & Wine also noted that a recent "Taste of the Month" featured a bourbon old-fashioned infused with Wisconsin's famous Nueske's bacon. Now that's what we call a uniquely crafted Wisconsin drink.
Milwaukee: Best Hiking Cities and Great Public Spaces Lists
Another great way to enjoy the beauty of Wisconsin is by foot. Visitors to the Kettle Moraine State Forest outside of Milwaukee know this, and so does National Geographic. The magazine named Milwaukee to its 2011 best hiking cities list, citing the Kettle Moraine State Forest stretch of the Ice Age National Scenic Trail. And if you're visiting Kettle Moraine, be sure to check out Lapham Peak, the highest point in Waukesha County. At a massive 1,233-feet above sea level, you can climb the 45-foot observation tower for a spectacular view.
Milwaukee has also been recognized as a walking destination in another way. The city's RiverWalk was named one of 10 Great Public Spaces for 2011 under the American Planning Association's flagship program called Great Places in America. Cool fact – though the current Riverwalk is 20 years old, the first RiverWalk segment was actually built in 1920.
Top 10 State for Boating and Bicycling
Hobby-affirming news for boat enthusiasts of Wisconsin: The National Marine Manufacturers Association announced its Top 10 States for Boating (based on annual sales from 2011) and Wisconsin showed up on that list, with Fish Creek in Door County called out as a "hot spot." For a "hot spot" within the "hot spot" anchor your boat in Nicolet Bay and float awhile – it's a boater's favorite hang out spot. When you get hungry, dock and head to the historic Summertime Restaurant for delicious food in a 101-year-old charming building.
Wisconsin continues to be recognized for its bike-ability. In fact, the state made it to The League of American Bicyclists' top biking states list again this year. Eau Claire received its first Bicycle Friendly Community award from the League this year as well. And, as if that doesn't get your wheels spinning, the University of Wisconsin-Madison earned a spot on the League's bike-friendly university list. The university provides free compressed air hoses in multiple locations on campus and provides an Emergency Ride Home program for bike commuters, among other things. That's almost as impressive as Bucky on a bike.
Destination Spa Awards
Kohler Waters Spa earned the coveted Forbes Five-Star Award for 2012, making the resort and spa the first and only Forbes Five-Star hospitality property in Wisconsin. And the resort's history is just as impressive. The Tudor-style building once housed immigrant laborers who came to work at Kohler Co. To really immerse yourself in the culture of the area, take a factory tour at the famous Kohler Design Center nearby. See innovative product design from an iconic Wisconsin company.
Kohler Waters Spa also took home SpaFinder.com's Top 10 honors as Best for Golf, Best for Men and Best for Pilates. And these are all well deserved. Kohler Waters Spa boasts a glass-enclosed rooftop deck with whirlpool, fireplace and lounge, as well as dozens of services and fitness classes. And guys – going to a spa is now cool. Kohler offers a variety of treatments created just for you from a golfer's massage to a men's facial.
Sundara Inn & Spa in Wisconsin Dells was voted Top 10 in two SpaFinder.com categories – Best Boutique Hotel and Best for Environmental Practices. Sundara offers organic spa treatments and products, is a member of the Green Spa Network and is Travel Green Wisconsin certified. At Sundara recycling takes on even greater meaning than separating plastic and paper. An ancient Cambrian-era sand discovered at the spa's excavation site has been re-purposed as the exfoliating agent in the Sundara signature Sandstone Body Polish product.
The Osthoff Resort's Aspira Spa was named to SpaFinder.com's Top 10 for Water Sports, ranked No. 5 on Spas of America's list of Top 100 Spas for 2011 and received Condé Nast Traveler's 2011 Readers' Choice Awards for a top Mainland U.S. Large Resort. The spa and resort were recognized for the fact that they sit right on the beautiful shores of Elkhart Lake. Tip – try the sacred waters massage, which literally takes its name from the waters of Elkhart Lake, considered sacred by the Native Americans who once lived in the area. This deep tissue massage uses warm water to soothe muscles.
Pfister Hotel: Top 25 Luxury Hotels in the U.S.
Built in 1893, the historic Pfister Hotel continues to win awards more than a century later. The hotel's unique and extravagant architecture is matched only by the lavish interior of the hotel. It's no wonder TripAdvisor.com ranked the Pfister Hotel in Milwaukee No. 13 on the 2012 list of Top 25 Luxury Hotels in the U.S. Whether you stay at the hotel, or just come for a peek, you've got to stop at the swanky Blu cocktail lounge. Located on the 23rd floor, Blu is the best place to sip a martini, sit back and enjoy panoramic views of downtown Milwaukee.
Iron Horse Hotel: Condé Nast Traveler's 2012 Gold List
Milwaukee's Iron Horse Hotel made Condé Nast Traveler's 2012 Gold List, which is based on readers' picks of the best hotels in the world…yes, we said world. The review likens an overnight there to "staying in a modern art museum." And in a city home to an iconic art museum, that shouldn't come as a surprise. If you plan on staying at the Iron Horse, you might be excited to hear that the hotel is pet friendly. In fact, Fido even has his own room-service menu.
American Players Theatre: Best Company and Best Play from the Wall Street Journal
In his "best of the best" review for 2011, Wall Street Journal theater critic Terry Teachout named American Players Theatre in Spring Green the Best Company of the Year and its play "The Cure at Troy" the Best Play of 2011. The play combined modern poet Seamus Heaney's work and the 5th century B.C. Sophocles drama Philoctetes. The result: a spellbinding performance with content as timely today as it was 2,400 years ago. This summer, be sure to see a performance at the American Player Theatre's outdoor amphitheater. Referred to as "Up the Hill" the amphitheater holds 1,147 seats under the stars.
Waukesha: GuitarTown
Exciting news for music lovers: Waukesha, the birthplace of Les Paul, has been named a Gibson Guitar "GuitarTown," and is one of just eight cities worldwide to receive the honor. This public arts project will include an unveiling of multiple 10-foot tall fiberglass model Gibson Les Paul guitars and a series of regular size guitars on June 1. The celebration, which is being dubbed, "Les Paul's Birthday Party" due to the fact that Paul's birthday is June 9, is being held in conjunction with the kick off of Waukesha's annual Freeman Friday Night Live music series. Activities such as cemetery tours of Paul's monument, museum tours and other activities are planned. There may even be some celebrity appearances.
Cedarburg Winter Festival: Zaniest Winter Festivals
The 2012 Cedarburg Winter Festival made the list of Zaniest Winter Festivals from SmarterTravel.com. This annual festival, which takes place early February, offers the perfect release for those suffering from cabin fever. Its wacky lineup includes: costumed bed-races on ice, a snow golf tournament (with tennis balls) and the racing of a huge beer barrel across ice.
Nestegg Marine of Marinette: Marina of the Year
Need a place to dock your boat this summer? Nestegg Marine in Marinette was selected by Marina & Dock Age magazine as "Marina of the Year" for its customer service, environmental responsibility, community involvement and top notch business practices. Nestegg Marine is the host location for the area's annual fishing tournament, Meet the Fleet Week and the annual July 4th "Logging and Heritage Fest." Nestegg Marine was the first Wisconsin Certified Clean Marina and leads the state in many other environmental improvements.
Echo the Parrot: Runner-up in America's Got Talent
We have to give a nod to Echo the Parrot, who puts on a darn good show at The Dancing Horses Theater and Animal Gardens in Lake Geneva. Echo and his trainer Sarah Hoeft made it to the big leagues on the television show "America's Got Talent." He wowed judges with his song repertoire, which included "Jingle Bells," "Happy Birthday," "Somewhere Over the Rainbow" and "Old McDonald Had a Farm."
If you're looking to win the award for most awesome vacation planner, just log on to TravelWisconsin.com for more Wisconsin getaway ideas. You can also choose to "Like" Wisconsin Tourism at Facebook.com/TravelWisconsin, follow along on Twitter at Twitter.com/TravelWI, and download the free Travel Wisconsin™ iPhone or Android app.
# # #