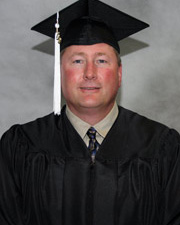 3.2.2012 – PLATTEVILLE, Wis. – The University of Wisconsin-Platteville and its Distance Learning Center (www.GoUWP.com) have selected a recent graduate of its online master's program in criminal justice and police investigator to receive its Honorary Lifetime Pioneer Award.
"The award is motivation to keep in contact and a reminder to stay connected with the school and the program," said Tom Gunderson, an investigator for the Pierce County Sheriff's Office.
A member of the Distance Education Alumni Advisory Board and recent recipient of the Dawn Drake Excellence in Distance Education Scholarship, Gunderson was recognized at his December graduation with the Pioneer Award. After leaving school to work full-time, he returned 20 years later to complete his bachelor's and master's degrees in criminal justice. He eventually wants to teach at a technical college or university.
(Click here for more of Tom's story.)
The UW-Platteville Alumni Association recognizes outstanding graduates with the award and a lifetime membership. Nominees must show leadership in campus activities, community involvement, professional development, academic excellence, and probability of future involvement in the Alumni Association.
UW-Platteville provides eight degrees entirely online. Visit www.GoUWP.com, call 800.362.5460 or email disted@uwplatt.edu to learn more.