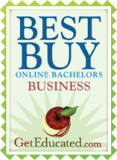 PLATTEVILLE, Wis. – The University of Wisconsin-Platteville, an accredited pioneer in distance learning for the last 33 years, is among the top schools in the nation for an affordable online bachelor degree in business.
"The value of higher education, especially in business, has never been higher," said Dawn Drake, executive director of alternative delivery systems. "Because of that, it's vital to ensure programs remain accessible to a broad range of working adults. One way of doing that is keeping tuition affordable."
GetEducated.com, a consumer group that publishes impartial online university rankings, recently released its list of the Best Colleges Online for an affordable business degree at the bachelor level. The online degree rankings were objectively calculated by comparing tuition and distance education fees at 67 regionally accredited or regional candidate universities that offer 136 distance bachelor degrees in business administration. UW-Platteville Online ranked 37.
"Online learning allows non-traditional students to attend America's best universities like UW-Platteville in terms of brand reputation and affordability," Drake said.
Visit www.GoUWP.com, call (800) 362-5460 or email disted@uwplatt.edu to learn more about UW-Platteville Online.