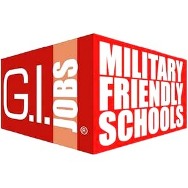 PLATTEVILLE, Wis.
-- The
University of Wisconsin-Platteville
—a leader in online education
(GoUWP.com)
—has been named to the Military Friendly Schools ® list by Victory Media, Inc. The designation is awarded to the nation's top 15 percent of colleges, universities and trade schools that are doing the most to embrace America's military service members, veterans, and spouses as students and ensure their educational success.
"Inclusion on the 2013 list of Military Friendly Schools ® shows UW-Platteville's name commitment to providing a supportive environment for military students," said Sean Collins, Director for G.I. Jobs and Vice President at Victory Media. "As interest in education grows we're thrilled to provide the military community with transparent, world-class resources to assist in their search for schools."
The 2013 list of Military Friendly Schools ® was compiled through extensive research and a data-driven survey of more than 12,000 VA-approved schools nationwide. The survey tabulation process, methodology and weightings that comprise the 2013 list were independently verified by Ernst and Young LLP. Each year schools taking the survey are held to a higher standard than the previous year via improved methodology, criteria and weightings developed with the assistance of an Academic Advisory Board (AAB) consisting of educators from schools across the country. A full list of board members can be found at www.militaryfriendlyschools.com/board.
"We're honored to be recognized by another organization that strongly supports educating our military," said Dawn Drake, executive director of Alternative Delivery Systems for UW-Platteville. "And it demonstrates our high level of commitment to meeting the needs of our men and women in the military no matter where they are, across the country or on the other side of the world."
UW-Platteville provides eight degrees entirely online. Visit
www.GoUWP.com
, call
800.362.5460
or e-mail
disted@uwplatt.edu
to learn more.