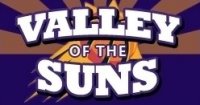 SCOTTSDALE, Ariz. -- ValleyoftheSuns.com announced the signings of three talented free agents to join its staff for the 2011-12 season, according to blog editor Michael Schwartz.
Kevin Zimmerman, Andrew Lynch and Ryan Weisert all bring different talents to the Phoenix Suns blog.
Zimmerman is a four-year veteran of the Arizona Daily Wildcat, where he has covered men's basketball and served as the sports editor. The decorated Zimmerman earned the Abe Chanin Award for excellence in sports jounalism as well as a Region 11 award for sports column writing. He also has written for Dime Magazine and the Arizona Wildcats blog Desert Swarm. He will be covering practices and occasional games.
Lynch comes from the TrueHoop Network blog Hardwood Paroxysm as well as the Suns blog Sun-N-Gun. Lynch is known for his near-pyromaniacal tendency to light things on fire when per-game statistics enter the conversation.
Weisert is a former manager for the Santa Barbara men's basketball team. He founded the humor blog Specatvius and brings his creative style to the ValleyoftheSuns team.
"I'm excited to bring aboard a talented free agency class like this with Zim, Lynch and Weisert," Schwartz said. "With these additions I feel like we could have our best ValleyoftheSuns staff yet."