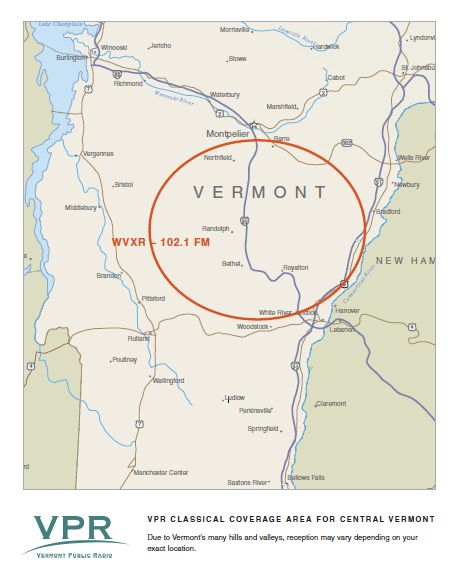 Colchester, Vt. - VPR Classical, Vermont Public Radio's 24-hour classical music service, will go on the air in Central Vermont next month.
VPR has finalized the purchase of WCVR 102.1 FM, based in Randolph. After an FCC-required approval period, the acquisition of the new frequency will bring VPR Classical to a large swath of central Vermont including the communities of Randolph, Bethel, Brookfield, Tunbridge, Sharon, Barnard, Royalton, Barre, Chelsea and more. The signal covers a population of approximately 92,000.
VPR President
Robin Turnau
will host a community gathering in Chelsea to discuss the new station and VPR's plans to expand VPR Classical in other parts of the state. Listeners are invited to meet Turnau on June 30 at 10 a.m. at the
Chelsea Town Hall
to share their thoughts and questions over light refreshments.
VPR Classical is Vermont's only classical music network featuring local hosts throughout the day.
Cheryl Willoughby,
Walter Parker,
and
Joe Goetz
share their extensive knowledge and passion for the music Monday through Friday. Weekend highlights include Saturday Afternoon at the Opera, Sunday Baroque, and From the Top. The network gives the music the time and attention it deserves, and provides listeners with a retreat from the hustle and busyness of their lives.
"Central Vermont is an area rich in cultural offerings with a deep passion for classical music. We're excited that VPR Classical will be available for this generation and generations to come," Turnau said. "I look forward to meeting fans and friends of VPR and VPR Classical at these gatherings."
About Vermont Public Radio
Listener-supported Vermont Public Radio has been serving the people of Vermont and the surrounding region since 1977. As Vermont's only statewide public radio network, VPR is a trusted and independent source for news, music, conversation and much more. For more information about VPR and VPR Classical, a list of frequencies and streaming audio from all of VPR's services, visit
VPR.net
.