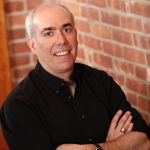 Vermont Public Radio has deepened its coverage of arts and culture with the launch this month of a new arts segment on Thursday afternoons during
All Things Considered
at 4:50 p.m.
Each week, Host Neal Charnoff will go behind the scenes of arts and culture in Vermont through conversations with artists and programmers, and by tracking topics and trends throughout the state.
"VPR already has many platforms for profiling the arts, which allow us to broadcast live performances, regional interviews, and projects such as our
Backstage series
," Charnoff said. "While those will continue, I'm excited for this weekly opportunity to explore Vermont's vibrant arts community."
The segment debuted last week, featuring
a conversation with Alex Aldrich
of the Vermont Arts Council. This week, Charnoff interviews Jody Fried, executive director of Catamount Arts.
The weekly conversation will be followed by
Art Hounds
, a new project that brings listeners voices from the arts community letting them know what they're excited about on the arts scene.
Art Hounds
invites people within the region's own vibrant, local arts community to rave about and recommend performances, exhibits, concerts and happenings in Vermont, New York, the Upper Valley and Quebec.
"Art Hounds is an opportunity for VPR listeners to hear about performances, exhibits, theater and events they might not otherwise know about," said Mary Williams, who produces
Art Hounds
for VPR. "For example, a musician might recommend an art exhibit, and a sculptor might recommend a production at their community theater. The project also has the potential to connect members of the arts community in supporting each other."
To participate in Art Hounds, visit
VPR.net
. The only catch is the work you want to promote can't be your own. Original music for this new setment was composed and performed by Vermont musician Dave Keller.
Art Hounds
was created by Minnesota Public Radio News and is powered by the Public Insight Network.