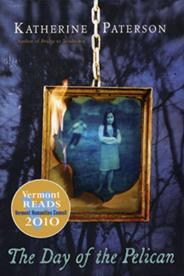 Vermont Public Radio will broadcast a
special series exploring the book The Day of the Pelican
by Barre author Katherine Paterson during the week of September 20. The series is in collaboration with the Vermont Humanities Council's annual statewide reading initiative, Vermont Reads.
The Day of the Pelican follows the Lleshis, a Muslim family in Kosovo as they are forced by war to flee their country. They end up in a refugee camp and eventually are resettled in Vermont.
VPR's series looks at the lives and communities of Vermont's refugee families, their struggles and successes. It will include readings from the book, interviews with new Vermont residents and the people who work with them. The series airs during Morning Edition September 20-22. Additionally, Katherine Paterson will be the guest on Vermont Edition on Monday, September 20th at noon and 7 p.m.
"We are glad to be working with the Vermont Humanities Council again this year to explore The Day of the Pelican with our broadcast audience," said John Van Hoesen, Vice President for News and Programming. "Vermont Reads brings us all together to explore a common theme, and the topic this year could not be more timely."
The Vermont Humanities Council is collaborating with libraries and other non-profit organizations across the state to present activities and events related to The Day of the Pelican for children and adults. Audio of the series will be posted at VPR.net following each broadcast.
About Vermont Public Radio
Listener-supported Vermont Public Radio has been serving the people of Vermont and the surrounding region since 1977. As Vermont's only statewide public radio network, VPR is a trusted and independent source for news, music, conversation and much more. For more information about VPR and VPR Classical, a list of frequencies and streaming audio from all of VPR's services, visit
VPR.net
.