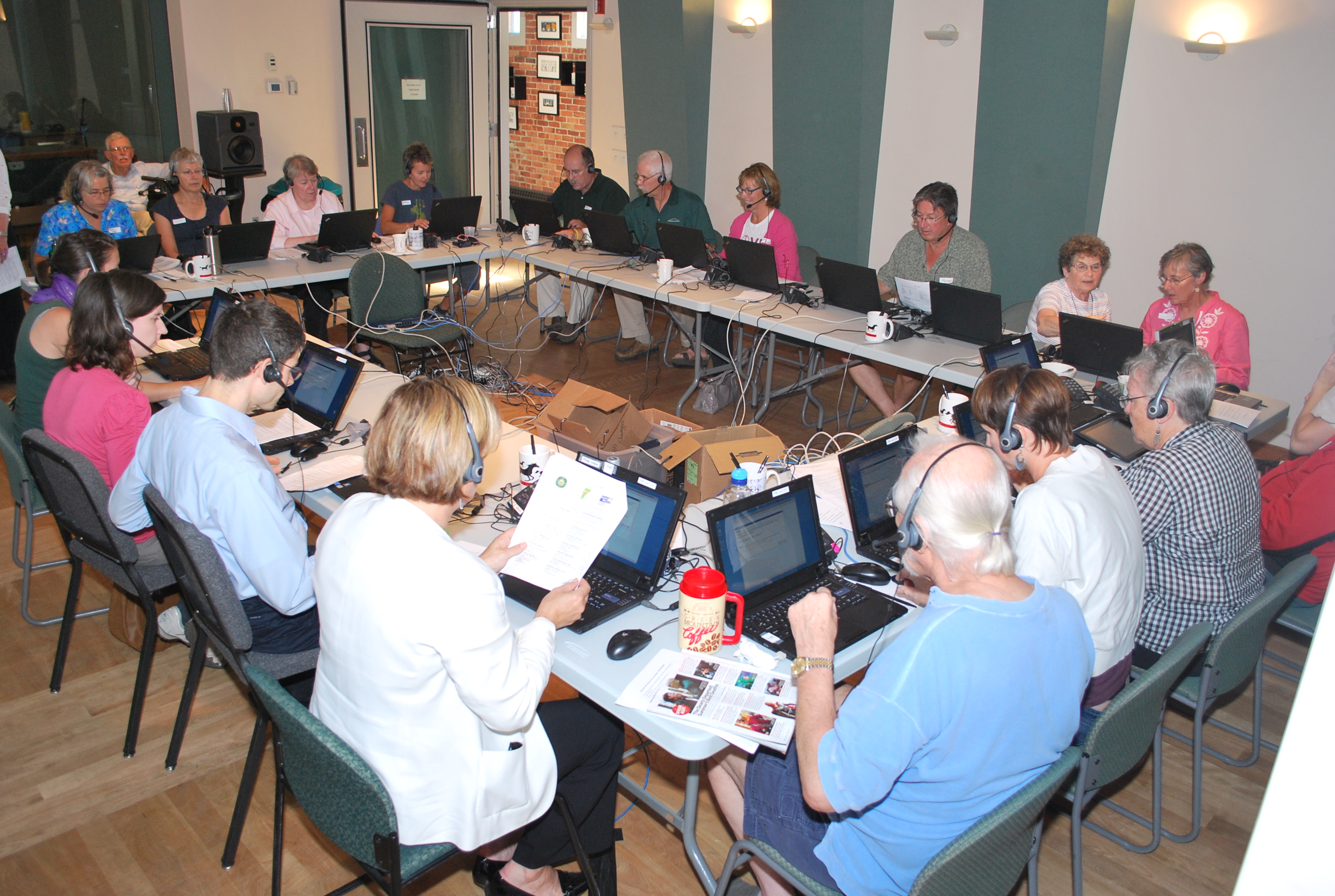 Vermont Public Radio raised more than $628,000 to benefit the Vermont Disaster Relief Fund during a special one-day fundraiser on Tuesday, September 13. Over 4,600 listeners donated to help affected communities rebuild and recover from the impact of Tropical Storm Irene and the subsequent flooding.
"We are simply amazed and very touched at the tremendous generosity of our listeners," said VPR President Robin Turnau. "We know that our listeners are community-minded, but this outpouring of support went beyond anything we imagined."
More than 150 volunteers helped answer phones during the 16-hour effort, which rang steadily throughout the day. Donations also flowed in through VPR's website as listeners and fans spread the word through social media.
VPR has been providing
in-depth news coverage of the aftermath of and recovery from Tropical Storm Irene
since it hit the region on August 28th, as well as online resources and information about road closures, volunteer opportunities, and more. Turnau said that it became clear early on that there was more VPR could do.
"We heard from dozens of listeners wanting to contribute to the recovery, but they weren't sure how to go about it," Turnau said. "We felt that giving listeners a trusted, secure way to make a donation to recovery efforts was another way we could help our neighbors."
Turnau added that VPR's experience with on-air fundraising, along with established systems and a critical mass of dedicated volunteers, made coordinating the special fundraiser a natural step. While VPR is not normally permitted to raise money on the air for another organization, it was granted a one-day waiver from the FCC to make this effort possible.
The Vermont Disaster Relief Fund
was created by the United Ways of Vermont in cooperation with the executive board of the Vermont Voluntary Organizations Active in Disaster (Vermont VOAD) and Vermont Emergency Management (VEM) to be used specifically for long-term recovery. The fund will be used entirely for the unmet long-term needs of survivors from the Irene disaster, and decisions will be made by Long Term Recovery Committees recognized by VOAD and Vermont Emergency Management.
"We can't begin to describe how appreciative the Vermont Disaster Relief Fund partners are to everyone from Vermont and beyond our state borders who gave so generously yesterday," said Martha Maksym, Executive Director of the United Way of Chittenden County, on behalf of the United Ways of Vermont, VEM, and VT VOAD.
"With these funds, the Vermont Disaster Relief Fund has now collected over $900,000 toward recovery support. These resources will directly help our neighbors and friends recover from their enormous loss. Once again, Vermonters have gone above and beyond to make sure we are taking care of our own. We are all deeply grateful to donors and to VPR for the opportunity to put out the call for assistance."
VPR has conducted special on-air fundraisers in the past, but never for something so close to home. In 2001, VPR listeners contributed $80,000 to help WNYC rebuild their radio transmitter after 9/11. In 2005, VPR raised $400,000 in one day to help with recovery from Hurricane Katrina.
"Despite the enormity of this natural disaster, it has been inspiring to see Vermonters from all walks of life reaching out to one another for support. We are so pleased to have carried that spirit of community at VPR today," Turnau said. "I want to thank everyone who contributed to VPR's fundraiser, as well as to everyone supporting other organizations, benefits, and lending their time to rebuild our beloved state."