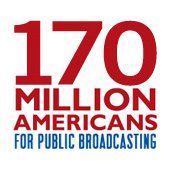 Vermont Public Radio
has joined with other public radio stations and public television stations across the country in an unprecedented effort to harness the enthusiasm of the 170 million Americans who watch, listen to, or use the services and programming of public media each month.
The
170 Million Americans campaign
was founded on the belief that now, more than ever, the United States needs a strong, non-commercial public media system.
"Through the Internet, social media tools, and more, citizens who believe in the mission and value of public media are coming together in this campaign," said Robin Turnau, president of Vermont Public Radio. "A vigorous debate over the importance of public media will take place this year and VPR is proud to be part of this effort to engage every supporter of public media in the country."
Vermont Public Radio plans to promote the effort to its more than 170,000 listeners by urging them to join the campaign being coordinated through the website -
170MillionAmericans.org
. Since its launch in December, the grassroots effort to engage listeners and viewers in local communities across the country has attracted thousands of participants.
"People who get involved in this campaign understand the importance of public funding; it ensures that public media will continue to serve as a source of non-partisan news, children's programming, public affairs programs, and a venue for music and cultural programming," said Turnau.
For more information about VPR's involvement in the campaign, contact Brendan Kinney at bkinney@vpr.net or 802-654-4389.
For more information about efforts nationwide, contact Bill Gray at American Public Media bgray@mpr.org or 651-290-1543, or Stacey Karp at the Association of Public Television Stations skarp@apts.org or 202-654-4222.