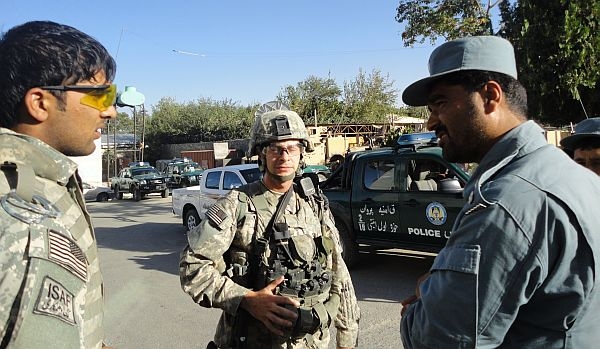 Vermont Public Radio has been honored with three 2011 national Edward R. Murrow Awards for excellence in electronic journalism. Reporter Steve Zind and VPR's news and programming staff were recognized for the documentary
Afghanistan's Other War,
, use of sound in a
report on night patrol with the Vermont National Guard and the Afghan National Police
, and for writing in
An Appreciation of the Cluster Fly.
The Murrow Awards are presented by the Radio-Television News Directors Association (RTNDA). VPR won three of 13 national awards in the small market radio category. In all, 62 news organizations are being honored with 95 awards.
"We are extremely pleased with these awards because they reflect the commitment to our mission to provide essential, trusted, and in-depth news and information from an independent voice," said John Van Hoesen, vice president for news and programming. " "It's especially gratifying to be recognized at the national level because these awards are all about how well we are serving our community on the air and online."
Afghanistan's Other War was produced by John Van Hoesen. Lynne McCrea produced the night patrol story. Zind's reporting from Afghanistan was made possible by the VPR Journalism Fund, which covered the expenses associated with the coverage.
Earlier this year, VPR was recognized with six regional Murrow Awards for outstanding news coverage. The award will be presented to VPR during a ceremony in New York City in October. A full listing of national Murrow Award winners is available
here.
Zind, a resident of Braintree, Vt., has been with VPR since 1994, most recently serving as a reporter and editor of Vermont Edition, VPR's daily news magazine program. He also served as program director for WNCS for 17 years, and also worked as news director for WCVR in Randolph. A graduate of Northern Arizona University, Steve also worked for stations in Phoenix and Tucson before moving to Vermont in 1972.
The RTNDA, the world's largest professional organization for broadcast and electronic journalist, has been honoring outstanding achievements in electronic journalism with the Edward R. Murrow Award since 1971. Recipients demonstrate the spirit of excellence that Edward R. Murrow made a standard for the broadcast news profession.
About Vermont Public Radio
Listener-supported Vermont Public Radio has been serving the people of Vermont and the surrounding region since 1977. With over 180,000 listeners a week, the statewide public radio network is a trusted and independent source for news, music, conversation and much more. For more information about VPR and VPR Classical, a list of frequencies and streaming audio from all of VPR's services, visit VPR.net.