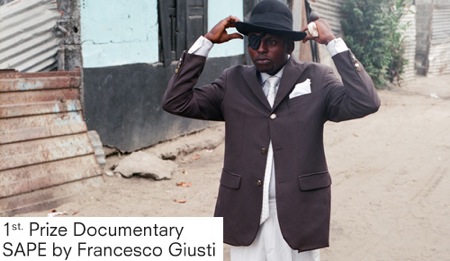 The first annual
Viewbook PhotoStory contest
has been won by
Francesco Giusti
and David Favrod. Italian photographer Francesco Giusti won the documentary category with an inspiring portrait story of the members of the SAPE, a group of remarkably elegant gentleman from Pointe-Noire, Republic of the Congo, Africa. The story reflects the wish of young people in particular not to be left apart by society.
Swiss - Japanese David Favrod has won first prize with a very personal conceptual story GAIJIN. "Gaijin" is a Japanese word meaning `foreigner'. David; `It is from the feeling of rejection and also from a desire to prove that I am as Japanese as I am Swiss that this work was created. `Gaijin' is a fictional recital, a tool for my quest for identity, where auto-portraits imply an intimate and solitary relationship that I have with myself. The mirror image is frozen in a figurative alter ego that serves as an anchor point."
Both artists won prizes with a value exceeding $12.000 including lifelong subscriptions to
Viewbook PRO
online services and
GUP magazine
, book publications and an exhibition in the
Kahmann Gallery
in Amsterdam, The Netherlands.
The winning series can be viewed on
www.viewbookphotostory.com
.
Other prizes
The following artists have also been commended in the Viewbook PhotoStory 2009 Awards:
Jury Prizes
2nd Prize-documentary: Khaled Hasan for `Living Stone: A community losing its Life'
3rd Prize-documentary: Matteo Armellini for `In the Middle of Nowhere'
2nd Prize-conceptual: Ilse Leenders for `Tokyo Monogatari'
3rd Prize-conceptual: Thorsten Kirchhoff for `Alibi'
Public vote prizes
1st Prize-documentary: Khaled Hasan for `Living Stone: A community losing its Life'
2nd Prize-documentary: Galanakis & Galanou for `Gavdos'
3rd Prize-documentary: Jonathan P levy for `In Svalbard'
1st Prize-conceptual: Can Eren for `Inside of Out'
2nd Prize-conceptual: Maria Rudnaya for `Insensible addiction'
3rd Prize-conceptual: David Favrod for `Gaijin'
New contemporary photography contest
The first edition of the Viewbook PhotoStory contest received close to 1000 entries from all over the world in just three months time. After a critical pre-selection more then 500
photographic narratives
got published on the
contest website
and 100-thousands of people viewed, voted and commented on them. An internationally renowned jury selected the three best narratives per category. Viewbook PhotoStory functions as a premium platform for emerging talents to face the establishment. The annual online
photography competition
aims to discover inspiring, high-quality photo stories
photo stories
within the photography community and bring them to a broad audience. Submissions for the next years event open April 2010.
Book publications
All winning photo stories
photo stories
will be published in single books with Blurb, as well as a complete
Viewbook PhotoStory 2009 yearbook
which covers all winning 2009 stories. The books will be available for sale on 1 November 2009 at http://www.viewbookphotostory.com and blurb.com
Exhibition
From 19 - 29 November the winning works SAPE by Francesco Giusti and Gaijin by David Favrod will be exhibited in the Kahmann gallery in Amsterdam. The opening takes place on Friday 19 November, with words and drinks on the house. More information will be available soon on
www.viewbookphotostory.com
For more information please visit
www.viewbookphotostory.com
and keep up to date with Viewbook's
blog
,
Facebook
and
Twitter!
- - - -
Note for the editor
- The competition was judged by: Marcel Feil (Curator FOAM Museum) Geert van Kesteren (Dutch photojournalist) Alison Zavos (Photographer & editor featureshoot.com) Roy Kahmann (Owner of Kahmann gallery and co-publisher of GUP magazine) Lauren Heinz (Editor FOTO 8 magazine)
- Viewbook PhotoStory is initiated and organized by Viewbook.com in association with GUP magazine, backed up by Blurb, Workbook, Lomography and many supporters.
Viewbook presskit with more information, screenshots, logo's and photos is available at http://www.viewbook.com/press