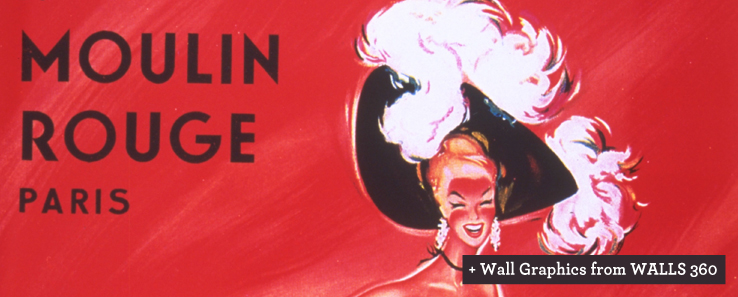 LAS VEGAS - July 31, 2012 - Walls 360, the on-demand wall graphics company, today launched an exclusive collection of Moulin Rouge premium wall graphics. The Walls 360 collection of Moulin Rouge wall graphics features classic poster designs from the Moulin Rouge Archives, now available to customers globally for the first time as officially licensed, large-format, on-demand wall graphics.
http://www.Walls360.com/MoulinRouge
"Artists including Toulouse-Lautrec created poster art for the Moulin Rouge in the 19th century that brought their artwork to the masses, using what was then the cutting-edge technology of
Color Lithography
," according to Veronique Allaire Spitzer from the Moulin Rouge. "Today, the Moulin Rouge is pleased to once again bring these iconic images to the world, now available as on-demand, premium wall graphics from Walls 360! Technology advances, yet the images retain their magic and the vision of the Moulin Rouge is able to reach new audiences around the world."
Available on-demand to customers globally on July 31, Walls 360 brings to real-world walls an exclusive collection of classic poster art from the Moulin Rouge archives. Walls 360's re-positionable, on-demand wall graphics are self-adhesive, easy to install and can be removed and re-used up to 200 times without leaving a mark or damaging surfaces.
"Walls 360 is absolutey honored to bring the artwork of the Moulin Rouge to the world as large-format, premium wall graphics," according to Tavia Campbell, co-founder and COO at WALLS 360. "Working from newly commissioned, high-resolution scans from the Moulin Rouge archives, these amazing poster designs are now available as on-demand wall graphics from Walls 360, and are available in user-selected sizes up to 6 feet tall."
About Moulin Rouge®
The Moulin Rouge® is the timeless center of nightlife in Paris. It is synonymous with beauty, glamour, festivity and Paris throughout the world. The unparalleled charm & rich history of the Moulin Rouge is as much a Parisian symbol as the Eiffel Tower - representing an enviable Parisienne lifestyle.
Historic and architecturally stunning, the iconic red windmill of the Moulin Rouge never goes dark with two shows each evening, 365 days a year with the second show beginning before midnight. Nearly 600,000 guests come to enjoy the festivities each year at this mythic venue, making the Moulin Rouge #1 among the world's cabarets. The Moulin Rouge stands out in the night, a beacon of wonderful nights had by everyone at the Moulin Rouge.
The Moulin Rouge is renowned worldwide for fabulous costumes, elaborate settings, original music, delicious menus full of celebratory meals and of coure, the most beautiful women in the world. Seven days a week for more than 120 years, the Moulin Rouge has entertained 1,700 spectators nightly — presenting outstanding shows which include dancing, cabaret, dinner and champagne. The production includes a troupe of 100 performers, including 80 dancers wearing more than 1,000 costumes and 800 custom made pairs of shoes per show.
About Licensing Works, LLC (dba Licensing Works!®):
Licensing Works! is a licensing and promotions company representing creators of original IP. In addition to Moulin Rouge® from Moulin Rouge S.A., clients include: Elmer's and X-ACTO® from Elmer's Products, Inc., Tetris® from Blue Planet Software, Zorro® from Zorro Productions, Inc., Tarzan® from Edgar Rice Burroughs, Inc., Buck Rogers in the 25th Century® from The Dille Family Trust, ABC Studios' Castle television series, MEG Toys' Puppy In My Pocket® Adventures in Pocketville television series and classic toy franchise, Hearts For Hearts Girls® from Playmates Toys, Inc., Playtime Buddies™ from Visual Picnic, Inc. and The Ed Sullivan Show from SOFA Entertainment. For more information about Licensing Works!®, visit:
http://www.LicensingWorks.us
.
About Walls 360
Walls 360 creates amazing on-demand wall graphics for artists, designers, photographers and brands from around the world. Proudly made in Las Vegas, Nev., and shipped to partners and customers globally, Walls 360 was featured in Entrepreneur Magazine's annual "
100 Brilliant Companies
" list in July 2012.
For more information visit
www.Walls360.com
,
# # #
MOULIN ROUGE MEDIA CONTACTS:
Fanny Rabasse
fanny.rabasse@moulinrouge.fr
Tel : 00 33 1 53 09 82 25
WALLS 360 MEDIA CONTACTS:
Martin Stein
martin@socialradius.com
Mobile: 702.285.2873
Krystalyn Malbon
krystalyn@socialradius.com
Mobile: 702.319.1794