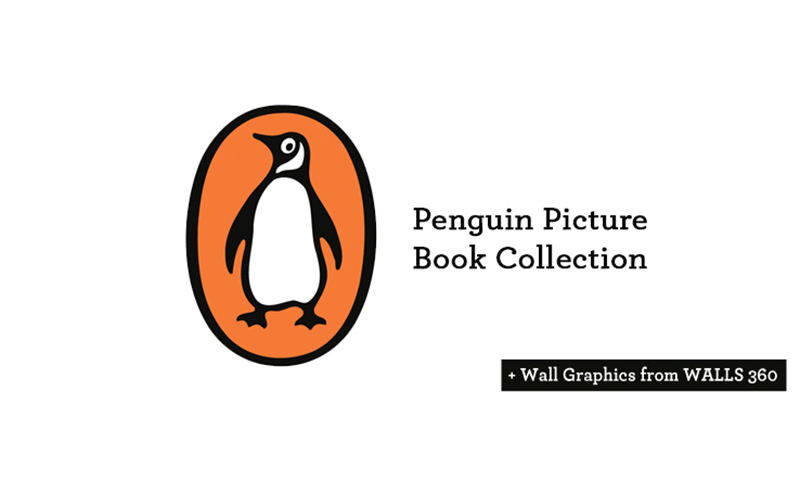 LAS VEGAS - June 13, 2012 - Walls 360, the on-demand wall graphics company, today launched an exclusive collection of Penguin Picture Book wall graphics. The first collections of premium Penguin wall graphics from Walls 360 feature Llama Llama, Ladybug Girl, Skippyjon Jones, Corduroy and Spot.
http://www.Walls360.com/Penguin
"We are thrilled to be working with a dynamic company like Walls 360," said Dave Olverson, consumer products manager at Penguin Young Readers Group. "We look forward to expanding our picture book properties into wall graphics that will help bring kids' rooms to life."
All premium, re-positionable wall graphics for kids from Walls 360 are available in a range of customer-selected sizes, from 6-inch sets of wall badges and wall squares to 8-foot-tall characters, classic book covers and panoramic wall murals - with thousands of on-demand options available.
"Walls 360 is delighted to be working with Penguin Picture Books to bring these classic characters and amazing artwork to the world as large-format, premium wall graphics," according to Tavia Campbell, co-founder and COO at WALLS 360. "If you and your children loved the books, you are going to LOVE the big wall graphics!"
Available to customer globally on June 13 via
http://www.Walls360.com/Penguin
, Walls 360 brings to real-world walls an exclusive collection of classic and iconic characters from Penguin Picture Books. Walls 360's re-positionable, on-demand wall graphics are self-adhesive, easy to install and can be removed and re-used up to 200 times without leaving a mark or damaging surfaces.
About Penguin
Penguin Group (USA) Inc. is the U.S. member of the internationally renowned Penguin Group. Penguin Group (USA) is one of the leading U.S. adult and children's trade book publishers, owning a wide range of imprints and trademarks, including Viking, G. P. Putnam & Sons, The Penguin Press, Riverhead Books, Dutton, Penguin Books, Berkley Books, Gotham Books, Portfolio, New American Library, Plume, Tarcher, Philomel, Grosset & Dunlap, Puffin, Razorbill and Frederick Warne, among others. The Penguin Group (
http://www.penguin.com
) is part of Pearson plc, the international media company.
About Spot
Spot promotes interactive learning and a sense of adventure. It focuses on teaching children to follow their imagination and curiosities about their surroundings. Spot also focuses on milestone events such as going to school and going on a vacation. The brand promotes the importance of learning from your mistakes, and is perfect for preschool-aged children. Spot is one of the most lovable and recognizable children's book characters, and has over 55 titles in print including board books, lift-the-flap board books, cloth books, and picture books.
About Llama Llama
Llama Llama focuses on teaching children the importance of social skills and manners such as sharing, patience and facing boredom. It takes a proactive approach to learning through fun and funny rhymes. Llama will always conquer his fears with the help of his Mama no matter how big or small the task. The brand highlights the special relationship and bond between parents and their children while providing priceless life lessons for all ages. Llama Llama has over two million books in print and is a perennial New York Times bestseller.
About Ladybug Girl
Ladybug Girl promotes a sense of adventure and exploration of the world. It focuses on teaching children about nature and the outdoors while fostering the values of friendship and care for others. Ladybug Girl's many adventures appeal to both boys and girls of all ages. The brand highlights a celebration of imagination and an empowerment of freedom for children. Ladybug Girl has 9 titles including picture books, sticker books, and board books. It has over one million copies in print and is a perennial New York Times bestseller.
About Skippyjon Jones
Skippyjon Jones focuses on the exploration of imagination. It promotes multiculturalism and diversity while teaching children about the power of uniqueness and friendship. Skippyjon Jones enhances the classic animal children's book theme with humor and adventure. The brand appeals to both boys and girls, and celebrates the power and value of being different. Skippyjon Jones is a perennial New York Times bestseller with Skippyjon Jones Class Action debuting at #1. It has won numerous awards, and has over three million copies in print with 25 titles including picture books, puzzle, sticker, and board books.
About Corduroy
Corduroy focuses on teaching children of all ages the values of a loving home and friendship. It promotes independence and hope while tapping into a fantastical adventure. Corduroy follows a theme of love that teaches children about the importance of caring for others. The brand is gender neutral and values the recognition of flaws as a universal quality. Corduroy is one of the most recognizable children's book characters of all time. It has sold over five million copies of the original picture book to date, and contains over 37 contemporary and seasonal titles.
About Walls 360
Walls 360 creates amazing on-demand wall graphics for artists, designers, photographers and brands from around the world. Proudly made in Las Vegas, Nev., and shipped to partners and customers globally, Walls 360 was featured in Entrepreneur Magazine's annual "100 Brilliant Companies" list in July 2012.
# # #
PENGUIN MEDIA CONTACTS:
Dave Olverson
Penguin Young Readers Group
david.olverson@us.penguingroup.com
Phone: 212.414.3433
Erica Glass
Media Relations Manager
erica.glass@us.penguingroup.com
Phone: 212.366.2951
WALLS 360 MEDIA CONTACTS:
Martin Stein
martin@socialradius.com
Mobile: 702.285.2873
Krystalyn Malbon
krystalyn@socialradius.com
Mobile: 702.319.1794