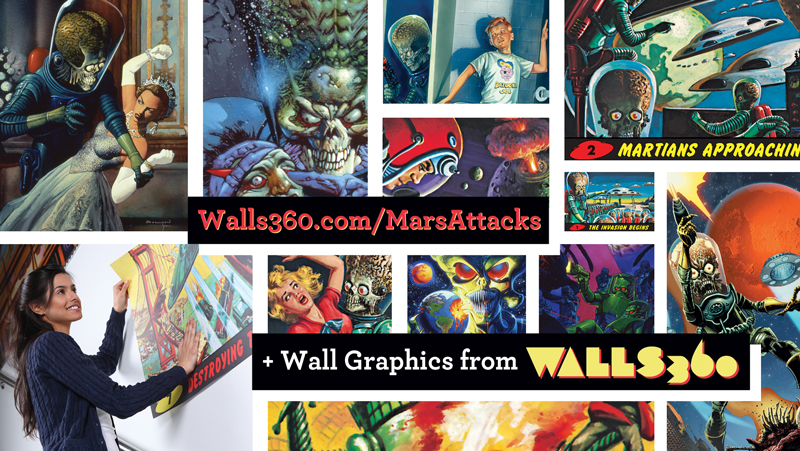 WALLS 360, the on-demand wall graphics company, today expanded their exclusive collection of Mars Attacks wall graphics. Previously featuring original designs and artwork from the classic collectible trading cards produced by the Topps Company in 1962, the expanded
WALLLS 360 x MARS ATTACKS
wall graphics collection now features comic book covers from the new IDW series. .
http://www.Walls360.com/MarsAttacks
In 1994, The Topps Company launched TOPPS COMICS, an award-winning line of comic books with Mars Attacks as their flagship title. The series featured stunning fully painted covers by many of the industry's top artists.
"In 2012, 50 years after the release of the original trading cards, Mars Attacks returned to comics in an all-new series from IDW Publishing," according to Adam Levine, Topps Licensing Manager. "Today, you can get these stunning comic book covers as on-demand premium wall graphics from Walls 360!"
Debuting in summer 2012, IDW's comic series offers the first stories of an all-new Mars Attacks universe, bringing the brand's outrageous action and dark humor to a new set of tales.
MARS ATTACKS was originally released as a science fiction trading card series by the Topps Company in 1962.
The short synopsis of the story, which appears on Card 55, reads:
Planning to conquer the Earth, Mars sends flying saucers through space carrying deadly weapons. Burning the cities, the Martians destroy much of Earth's population. The enemy then enlarges insects to over 500 times their normal size and releases them on the helpless planet. People go into hiding, knowing that death is the consequence if they are discovered by the creatures. Despite its losses, Earth launches a counterattack that shatters the Martians on their home planet, Mars.
Since its initial release in 1962, Mars Attacks has made an indelible impression on pop culture, inspiring legions of fans around the world. Coinciding this summer with the landmark half-century milestone, Topps is pulling out all the stops for collectors to re-connect with the cult classic while ushering in a whole new generation of fans.
"The Mars Attacks trading cards, which were drawn by renowned comic book artists Wally Wood and Bob Powell and painted by legendary pulp artist Norman Saunders, were decidedly controversial on their release in 1962," according to John Doffing, Co-Founder and CEO at WALLS 360. "Kids loved them, but the cards prompted parental concerns due to the sensational storyline and over-the-top graphics. 50 years later, these images make for some amazing wall graphics from Walls 360!"
"The original Mars Attacks series enjoys the distinction of being the most sought after and valuable non-sport trading card set of all time, and Issue #1 of the new Mars Attacks comic immediately sold out - featuring 57 variant covers," according to Tavia Campbell, Co-Founder and COO at Walls 360. "Now they are ALL available as premium, re-positionable wall graphics from Walls 360 - the perfect new medium for these iconic images!"
"The imagery featured on the original Mars Attacks card series has over the years become an enduring icon of sci-fi and horror," said Adam Levine, Topps Licensing Manager. "As part of our campaign to return Mars Attacks to its pulp roots, WALLS 360 has used the original negatives to reproduce the original trading card artwork as high quality wall graphics in stunning detail. And today we launch an amazing NEW series of Mars Attacks wall graphics, featuring cover artwork from the new IDW comics!"
Acclaimed comic book artist John McCrea, the Eisner Award-winning illustrator and co-creator of DC Comics' Hitman (with Garth Ennis), is the artist on IDW's Mars Attacks comic book series, today available as on-demand, large-format wall graphics.
About Topps
Founded in 1938, The Topps Company is the preeminent creator and brand marketer of sports cards, entertainment products, and distinctive confectionery. Topps leading sports and entertainment products include Major League Baseball, National Football League, WWE, UFC, Star Wars, Wacky Packages, Garbage Pail Kids and other trading cards, sticker album collections, and collectible games. The Company's top confectionery brands include "Ring Pop," "Push Pop," "Baby Bottle Pop," "Bazooka" bubble gum, "Sharkies" and "Juicy Drop Pop" products.
For more information visit
www.Topps.com
About Mars Attacks
Originally developed as a series of trading cards, Mars Attacks was created by Len Brown and Woody Gelman, after Brown was inspired by the Wally Wood cover to Weird Science #16 (EC Comics). The cards went on to achieve cult status for their then-shocking imagery, fully painted by pulp legend Norm Saunders, and remains a staple of pop culture. Topps revived the franchise in the mid 1990s with a second card set, comic book series and toy line. The story was also adapted into the 1996 feature film, Mars Attacks!, directed by Tim Burton.
For more information visit
www.Facebook.com/MarsAttacks
About Walls 360
Walls 360 creates amazing on-demand wall graphics for artists, designers, photographers and brands from around the world. Proudly made in Las Vegas, Nevada, and shipped to partners and customers globally, Walls 360 was featured in Entrepreneur Magazine's annual "
100 Brilliant Companies
" list in July 2012.
For more information visit
www.Walls360.com
# # #
TOPPS MEDIA CONTACTS:
Adam Levine
The Topps Company
alevine@topps.com
WALLS 360 MEDIA CONTACTS:
Martin Stein
martin@socialradius.com
Mobile: 702.285.2873
Krystalyn Malbon
krystalyn@socialradius.com
Mobile: 702.319.1794
ADDITIONAL IMAGES: