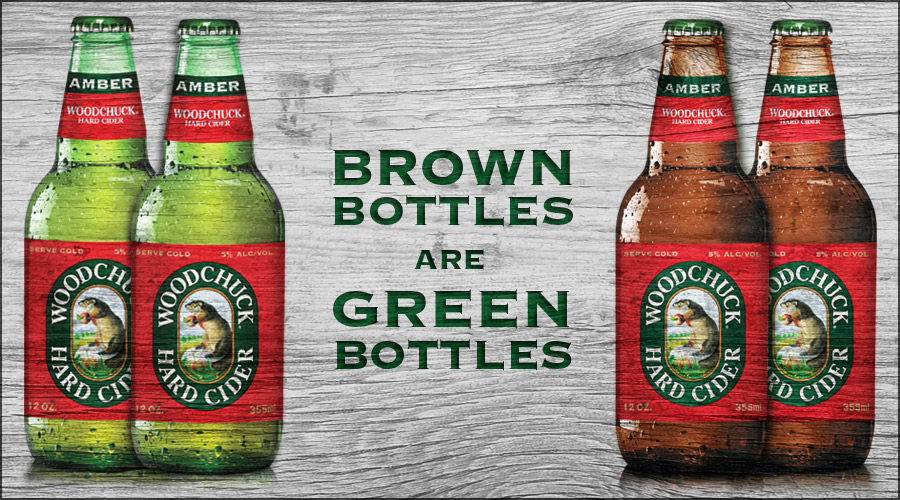 Middlebury, Vermont – The Vermont Hard Cider Company, LLC – makers of Woodchuck Hard Cider – continues to experience rapid growth due to the interest and demand surrounding our line of hard cider varieties.
The company has doubled production since 2007, and is expected to remain on a similar trajectory in the years to come. That rapid growth, coupled with our desire to remain conscious of our carbon footprint during this exciting time, has lead to a change in our bottle operation.
The full line of Woodchuck Hard Cider varieties has moved to a brown bottle.
To meet our current bottle needs, the green glass is trucked in from three plants across North America. On average, the glass travels more than 900 miles to reach the Middlebury Cidery. The new brown bottle is sourced from just 300 miles away.
That difference in mileage, when added up over the course of a year, will take the equivalent 150 cars off the road. Each year. The new bottle will also expand recycling opportunities for our consumers across the country, as brown glass is more universally accepted. This change represents a continued dedication to the company's social, ethical, and environmentally rooted mission.
The Vermont Hard Cider Company is grateful for the many fans of Woodchuck Hard Cider. Our continued growth and success is a result of their passion for the product. Hopefully the switch in bottle style will match the priorities of our fan base in staying mindful of our footprint, while delivering an original American hard cider to more store shelves than ever before.