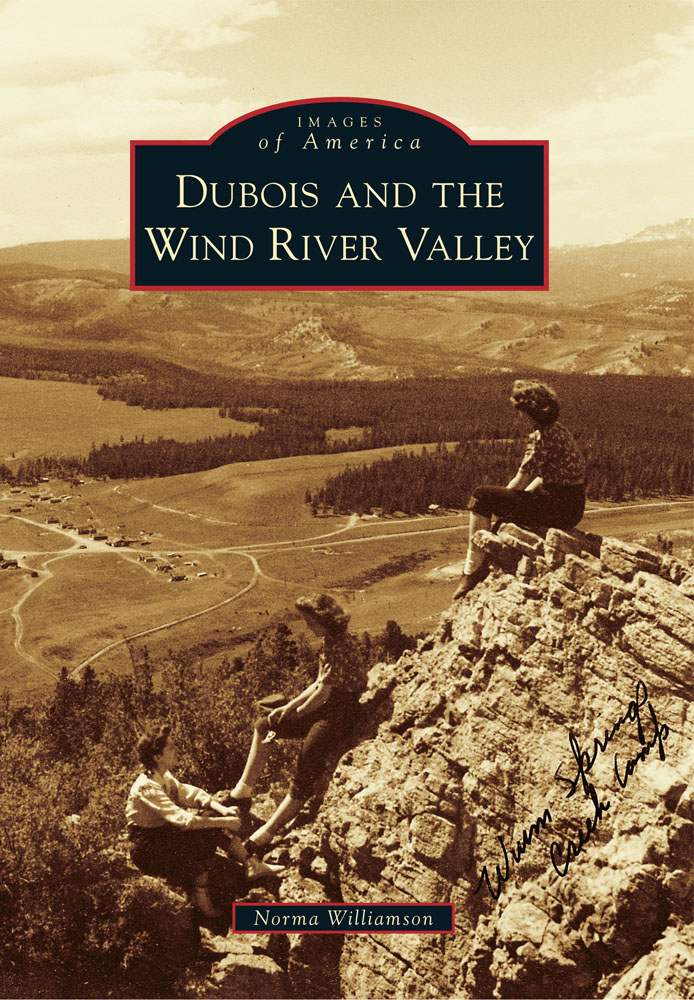 Join Norma Williamson during an Author's Event on Saturday, May 26th, 2 p.m., hosted by Two Ocean Books. 118 East Ramshorn Street in Dubois, WY.

Join Norma Williamson during an Author's Event on Saturday, May 26th, 2 p.m., hosted by Two Ocean Books. 118 East Ramshorn Street in Dubois, WY.
Dubois, WY
- Join Local Author Norma Williamson Saturday, May 26th at 2 p.m., for an Author's Event, hosted by Two Ocean Books, 118 East Ramshorn Street, Dubois, Wyoming. Williamson will also be signing books at the Dubois Museum Dennison Lodge, 909 Ramshorn Street, Thursday, June 7 at 7 p.m.
New to Arcadia Publishing's popular "Images of America" series is Dubois and the Wind River Valley by local author Norma Williamson. This pictorial history boasts more than 200 vintage images and provides readers with a unique opportunity to reconnect with the history that shaped their community.
About the Book:
Mountain men, fur traders, and Native Americans often traveled through Northwestern Wyoming's beautiful upper Wind River Valley. The valley's rugged mountain terrain discouraged permanent settlement until the late 1880s, when homesteaders arrived in search of free land. Most early settlements have vanished, but the tiny community nestled along the Wind River that would become Dubois thrived, and it soon had a bank, store, and saloon. The upper valley's high elevation and short growing season quickly discouraged farming, and those who remained learned to make a living from travelers passing through on their way to visit the recently created Yellowstone National Park. Others earned their living cutting timber in the new national forest that had been set aside to protect Yellowstone. A railroad tie-cutting operation in the national forest supplied the country's railroads with cross ties for more than 40 years.
Norma Williamson, a Wyoming journalist and former director of the Dubois Museum, has lived in Dubois for the past 20 years. Williamson worked closely with the Dubois Museum's historical photograph collection and the collections of local families to bring Dubois's colorful past to life.
Meet the Author as she discusses and signs copies of her new book!
Arcadia Publishing is the leading publisher of local and regional history in the United States. Their mission is to make history accessible and meaningful through the publication of books on the heritage of America's people and places.
Dubois and the Wind River Valley by Norma Williamson
Images of America series $21.99. Available at area bookstores, independent retailers, and online retailers, or through Arcadia Publishing at (888)-313-2665 or online.
Available: May 14, 2012
About the Author of Dubois and the Wind River Valley
Norma Williamson, author of Dubois and the Wind River Valley, has long been interested in history. She graduated with a degree in history and journalism from Tennessee Tech and her work career has frequently incorporated history with her love of writing.
When Williamson, her first husband, and their three children moved to Kemmerer, Wyoming, in 1977, she was immediately fascinated by the histories of the local families that went back only two generations. In those years, Williamson wrote feature stories part-time for the Kemmerer Gazette and the Casper Star Tribune that frequently had historical themes. She and a partner later owned a public relations business based in Kemmerer that developed history-themed advertising for Exxon, USA while the company was developing a major energy project in Southwestern Wyoming.
During the years Williamson lived in Kemmerer, she travelled through Dubois and the Upper Wind River Valley from time to time and fell in love with the beauty of the area. By the late 1980s, Williamson was divorced for a second time and her three children were grown. She accepted a job as a journalist in Riverton in the upper end of the Wind River Valley. Two years later in 1991, she was offered a job as editor of the Dubois Frontier and took it without hesitation. Living in the Upper Wind River Valley was the realization of a dream for Williamson, and she spent her spare time exploring the area with new friends.
Williamson left the Frontier in 1993 and lived in Tennessee for two years assisting her elderly parents. She returned to Dubois in 1996 as editor and part owner of the Frontier. Williamson retired in 2000 and spent time in Alaska and New Mexico before returning to Dubois in 2003.
She began working part-time for the Dubois Museum soon after returning to Dubois and accepted the position of museum director when it became available the following year. She retired for a second time in August 2010 and took on the task of telling the story of the Upper Wind Valley in photographs and prose for Arcadia Publishing in 2011.
When asked "What lasting impact do you hope your book will leave?"
Norma replied, "It's my hope that documenting the lives of the early settlers of the Upper Wind River Valley will educate visitors and new residents of the area about the hardships people endured to build a lasting community surrounded by wilderness. Only those with persistence and endurance survived. There is a lesson in their lives for the United States today."
For more information on the Dubois Museum book signing 307-455-2284. For information on the Two Ocean Books signing 307-455-3554.
To learn more about what Wind River Country has to offer, or to request a vacation packet, please visit us at
Wind River Country
or call 800-645-6233.
Keep in touch with Wind River Country
Facebook
Twitter
YouTube
Flickr