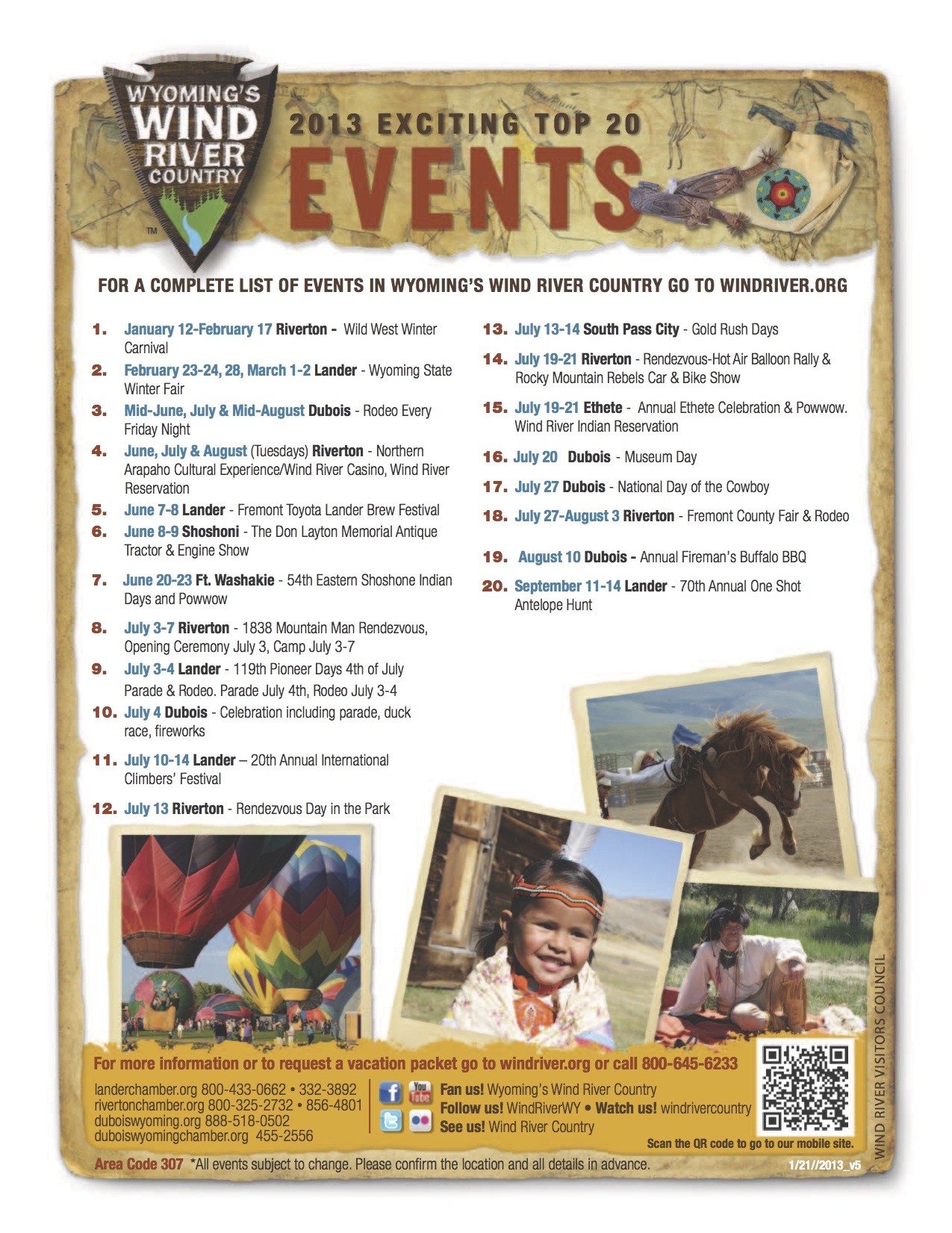 Wind River Country, WY - In Wind River Country you can experience special events that brings classic old western movies back to life. You can attend wild-west Friday night rodeos and even pan for gold throughout the summer. Not to mention the July 4th parades, a tractor parade and fireworks.

In the winter take part in the many activities offered during the Wild West Winter Carnival or the Winter Fair.

You'll find an assortment of Native American cultural offerings including a Shoshone Powwow and Northern Arapaho Cultural Experiences. There are weekly cultural programs of authentic Indian Dance and Storytelling Exhibitions (Northern Arapaho Cultural Experience) providing special insights to the Arapaho way of life.

Here are the Top 20 events or for a complete list go to http://www.windriver.org/events.php

Fremont County, WY - Top 20 Events in Wind River Country for 2013:
1. January 12-February 17 Riverton - Wild West Winter Carnival
2. February 23-24, 28, March 1-2 Lander - Wyoming State Winter Fair
3. Mid-June, July & Mid-August Dubois - Rodeo Every Friday Night
4. June, July & August (Tuesdays) Riverton - Northern Arapaho Cultural Experience/Wind River Casino, Wind River Reservation
5. June 7-8 Lander - Fremont Toyota Lander Brew Festival
6. June 8-9 Shoshoni - The Don Layton Memorial Antique Tractor & Engine Show
7. June 20-23 Ft. Washakie - 54th Eastern Shoshone Indian Days and Powwow
8. July 3-7 Riverton - 1838 Mountain Man Rendezvous, Opening Ceremony July 3, Camp July 3-7
9. July 3-4 Lander - 119th Pioneer Days 4th of July Parade & Rodeo. Parade July 4th, Rodeo July 3-4
10. July 4 Dubois - Celebration including parade, duck race, fireworks
11. July 10-14 Lander – 20th Annual International Climbers' Festival
12. July 13 Riverton - Rendezvous Day in the Park
13. July 13-14 South Pass City - Gold Rush Days
14. July 19-21 Riverton - Rendezvous-Hot Air Balloon Rally & Rocky Mountain Rebels Car & Bike Show
15. July 19-21 Ethete - Annual Ethete Celebration & Powwow. Wind River Indian Reservation
16. July 20 Dubois - Museum Day
17. July 27 Dubois - National Day of the Cowboy
18. July 27-August 3 Riverton - Fremont County Fair & Rodeo
19. August 10 Dubois - Annual Fireman's Buffalo BBQ
20. September 11-14 Lander - 70th Annual One Shot Antelope Hunt
*All events, dates and times are subject to change. Please confirm the location and all details in advance.
For a complete list of events in Wyoming's Wind River Country, to learn more about what Wind River Country has to offer, or to request a vacation packet, please visit us at Wind River Country or call 800-645-6233.

Keep in touch with Wind River Country
Facebook
Twitter
YouTube
Flicker


www.landerchamber.org 800-433-0662, 307-332-3892
www.rivertonchamber.org 800-325-2732, 307-856-4801
www.duboiswyomingchamber.org www.duboiswyoming.org 888-518-0502, 307-455-2556