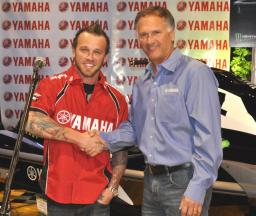 KENNESAW, GA — Yamaha WaterCraft Group, a division of Yamaha Motor Corporation, U.S.A., today announced that multi-time IJSBA World and National champion Dustin Farthing is returning to the Yamaha motorsports family to campaign the 2012 personal watercraft racing season aboard Yamaha WaveRunners.
Farthing is one of the most recognized names in PWC racing and is the current UWP-IJSBA National Pro Open Runabout champion. He began his professional career racing for Yamaha WaterCraft and is returning to the fold after a nine year absence. Farthing will race the Yamaha FX SHO® and Yamaha FZR® at offshore and closed course events respectively, including the UWP-IJSBA National Tour and the IJSBA World Finals.
"I've been impressed with what Yamaha's accomplished on the race course over the last few years," said Farthing. "Their 1.8L engine is bulletproof and has led to the FZR really dominating some key pro race classes. I look forward to having my team work with this engine and hull which have so much potential in the Open class and beyond. It feels great to be back with the same group I launched my racing career with so many years ago."
Farthing has competed in top racing circuits all over the world and has won ten national and six world titles over the past two decades.
"Dustin is one of the preeminent racers in the history of personal watercraft racing and we are thrilled to have him back at Yamaha," said Scott Watkins, Yamaha's product manager, former freestyle world champion and IJSBA Hall of Fame inductee. "We look forward to working with him and the entire Farthing Racing team to win in 2012."