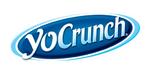 (CHICAGO) Jan. 23, 2012 — YoCrunch, the original yogurt packaged with fun, mix-in toppings, takes the Greek yogurt trend to the next level with its new Greek Parfait cups featuring toasted almonds combined with "superfruits" like acai and pomegranate. The new YoCrunch Greek Parfaits offer a new way for yogurt lovers to enjoy a fun, on-the-go breakfast or power-packed snack.
The Greek Parfait varieties build on YoCrunch's smooth, creamy nonfat Greek yogurt and come in two fruit combinations: Pomegranate, Blueberry & Acai and Raspberry & Acai.
"The Greek Parfait line is a healthy treat for yogurt lovers looking for the benefits of lean proteins and antioxidants in one delicious, convenient serving," said YoCrunch Senior Vice President of Marketing Ralph Tschantz. "With whole pieces of fruit, unique flavors and crunchy toasted almonds, our Greek Parfaits are a far cry from a basic boring yogurt cup. We've put the 'good' back into good for you!"
Each flavor contains just 190 calories, including the toppings, in a 6-ounce serving. Packed with protein, a YoCrunch Greek Parfait can help stave off hunger and provide long-lasting satisfaction. The new Greek Parfaits are perfect as a between-meal or post-workout snack.
America's appetite for Greek yogurt continues to grow, and by the end of 2012 could represent a third of all yogurt sales. In addition to the new Greek Parfait cups, YoCrunch, the first yogurt brand to offer toppings on Greek yogurt, offers other popular options including Strawberry, Blueberry and Peach, available in 6-ounce cups or multipacks of four 4-ounce cups.
Suggested retail price for a 6-ounce YoCrunch Greek Parfait is $1.19 to $1.49.
About YoCrunch Yogurt
YoCrunch Yogurt provides a break from boring snacking -- it's a fun snack that allows kids and adults to play with their food and receive all the health benefits of yogurt. The YoCrunch® brand is America's best-selling full line of smooth, creamy yogurt conveniently packaged together with a wide variety of crunchy mix-ins including granola, M&M's® Chocolate Candies, Nestle® Crunch® candy, Reese's® Pieces® candy, OREO® cookie pieces, and Butterfinger® pieces, along with the YoCrunch® Fruit Parfait™ line, which launched in 2010. For more information please visit www.YoCrunch.com.