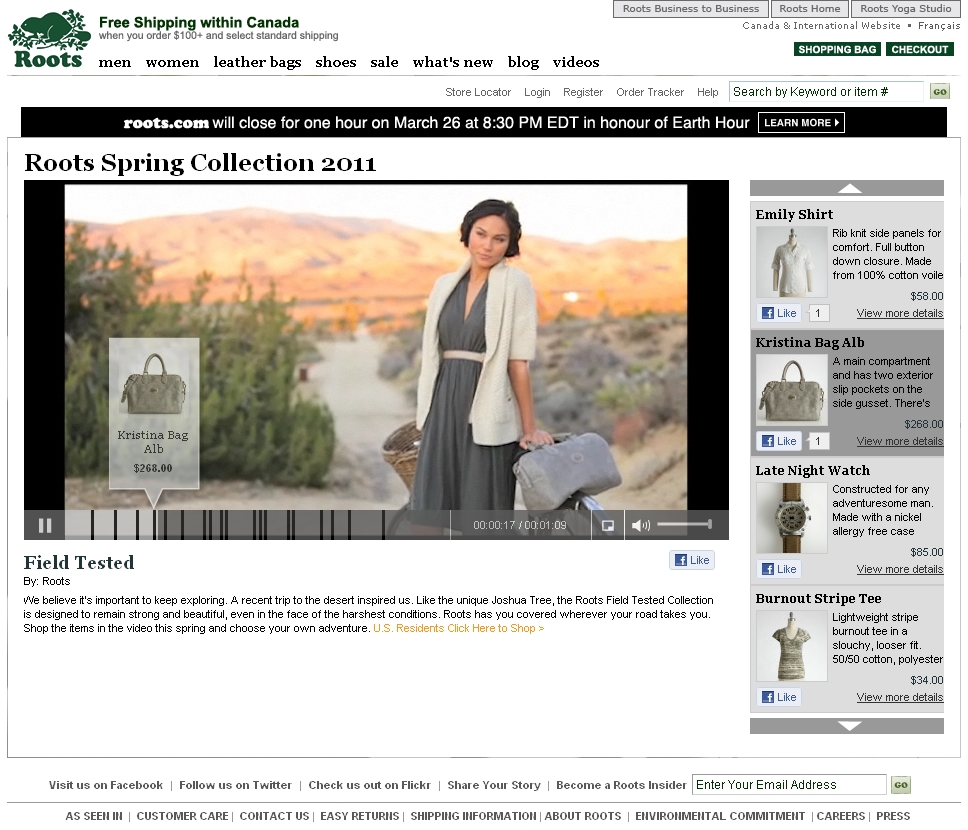 SAN FRANCISCO:
Digital shopping innovator,
Fluid Inc.
, has added a new dimension to one of the Web's fastest-growing communications platforms: online video. Available for immediate integration into online shopping websites and Facebook pages,
Fluid Experience Shoppable Video
enables retailers to maximize the impact of their ecommerce sites by adding interactive merchandising features to product videos.
Online retailers increasingly use video to engage shoppers; inspire them with highly branded experiences that highlight the look, features and context for their products and collections; and drive them to purchase. Now, with Fluid Experience Shoppable Video, retailers and brands can go beyond the basics to enhance product videos with contextually relevant product information that makes it a snap to shop directly from within a video itself.
As a
Shoppable Video
plays, products featured in the video, along with descriptions and images are surfaced beside the video - perfectly synchronized with the video. And it's a two way street: shoppers can navigate the video by clicking on products along an interactive video timeline, or by selecting from a simple list view. Viewers can pause the video, learn more about the product, and add it to their cart without ever leaving the video environment. With easy-to-use administrative tools, Fluid takes the hassle out of managing shoppable videos. Retailers can quickly upload their existing videos, add product information, and publish them to their sites. See it in action here: on the
Roots ecommerce website
.
"Many retailers have discovered the power of video as a medium that engages shoppers and motivates them to buy," said Peter Goldie, general manager, products at Fluid. "But why stop there? With Fluid Experience Shoppable Video, marketers can enhance these videos with product information, special offers, and complementary products - and then close the sale right on the spot."
"We're using Shoppable Video to highlight our seasonal collections," said James Connell, vice-president, ecommerce and marketing for Roots, one of Canada's top iconic brands. "It's a fantastic way to leverage all of our great lifestyle footage and drive engagement with our brand. The fact that our customers can interact with the video and decide to purchase something while still inside the video experience is amazing - and it's driving incremental revenue."
Product highlights:
Simple integration:
into any major ecommerce platform, as well as Facebook pages, microsites, etc.
Highlighted Product:
the featured product or look is automatically highlighted alongside the video.
Flexible Navigation:
control video position using the player itself or clicking within the product list.
Customizable Design:
skinnable to fit with any site design; browse by product or by look/trend.
Flexible Product Types:
supports individual products and multi-product listings.
Auto-pause:
video and audio automatically pause when the shopper clicks for more information.
Social Sharing:
built-in social media sharing options with deep linking to the site.
Admin Tools:
easy for non-technical users to manage.
Hosting:
a fully hosted solution with reporting and analytics.
Packaging and Pricing
Fluid Experience Shoppable Video is available immediately as an optional add-on to the core Fluid Experience offering. For pricing information, contact Fluid at:
sales@fluid.com
or 1-877-343-3240
Fluid: Digital Shopping Innovation
Fluid creates engaging customer experiences that drive conversion, satisfaction and brand loyalty. Fluid delivers these results through custom agency engagements and the Fluid Retail Experience Platform. Founded in 1998 and with offices in San Francisco, Chicago, and New York, Fluid's customers range from mass-market retailers to luxury goods manufacturers, and include top brands such as: Coach, Diapers.com, Nine West, Reebok, Sears, The North Face, and Vans. For more information, visit www.fluid.com, and follow us on Twitter (@Fluid) or Facebook (FluidInc).